Antibody-Drug Conjugates (ADCs), are extremely potent and selective biopharmaceutical drugs designed to specifically target cancer cells.
ADCs typically consist of a monoclonal antibody, that specifically binds to an antigen highly expressed on tumor tissue, conjugated to a highly cytotoxic drug.
The combination of these two agents allows to fully exploit the specificity of the antibody in targeting the toxin to tumors, circumventing systemic toxicity and increasing therapeutic window.
The challenges of making a fully functional ADC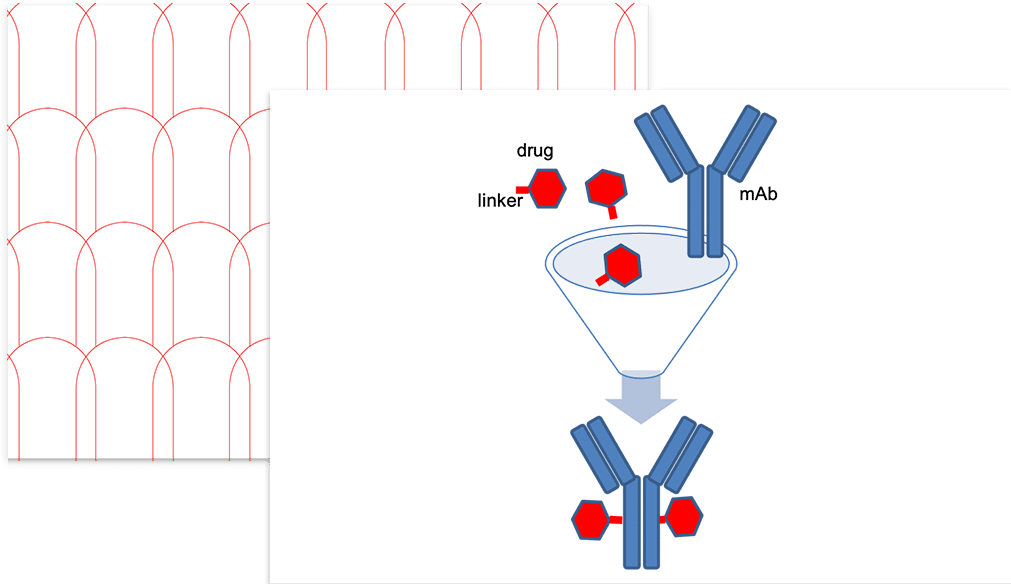 ADC production presents some critical aspects related to the features of the two agents to be conjugated and to the required properties of the final product, including preservation of antigen binding, stability in plasma and release of the active drug inside the tumor cells.
Two crucial factors in the process of producing a new ADC from a candidate monoclonal antibody are the choice of the cytotoxic drug and the chemical linkage between the antibody and the drug.
It is here where Nerviano Medical Sciences comes into play.
Nerviano Medical Sciences's edge in ADC technology
Capitalizing on the long standing experience in cytotoxic drug discovery and development, a multidisciplinary team of chemists, biochemists and cell biologists in NMS creates new toxins specifically tailored to ADC production.
The synthesized new toxins are coupled to different linkers and every product is checked for efficiency in conjugating to mAbs. Resulting ADCs are characterized biochemically and in cells.
This process is reiterated until the best possible drug and drug linker in term of final ADC features are identified.
We don't base our research on existing toxins trying to fit them in the process but we produce on purpose new toxins with optimized features for ADCs.
NMS drug linker lead: NMS-P945
The most advanced product in our pipeline is NMS-P945, a drug-linker that possesses physicochemical properties particularly suited to antibody conjugation. NMS-P945 usually generates monomeric ADCs with drug antibody ratio >3.5.
NMS-P945 contains a thiol-reactive moiety which readily allows direct coupling to monoclonal antibodies and a protease-cleavable linker, stable in plasma which directs intracellular release of the active species NMS-P528.
NMS-P528 is an innovative highly active, DNA minor groove binding agent (MGB) with distinct cytotoxic mechanism and >10X greater cellular activity compared with the tubulin-active agents often used for ADC generation. It is rapidly inactivated in plasma contributing to increase the safety of obtained ADCs.
All this while maintaining high versatility for antibody conjugation